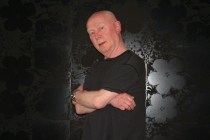 Kaare Rafoss: Biography
2022
Kaare Rafoss holds degrees in painting from Pratt Institute and the Yale School of Art. He received grants from the State University of New York, the New York State Arts Council (C.A.P.S.), the National Endowment of the Arts, and the New Jersey State Council for the Arts.
Rafoss has had solo exhibitions at the Henie-Onstad Kunstsenter, Høvikodden, Norway, Trans Hudson Gallery, NYC, the Flemming Museum, Burlington, Vermont and SUNY College at Cortland, New York. His participation in group exhibitions has included: the Metropolitan Museum of Art, Musee d'Orsay, Paris, Kunst Markt, Cologne, Germany, and Henie-Onstad Kunstsenter, Norway, Whitney Museum of American Art, NYC, Whitney Biennial, Albright Knox Art Gallery, Buffalo, NY, Dallas Museum of Fine Arts, Texas, Montclair Art Museum, NJ, Jersey City Museum, Reese Paley Gallery, NYC, Sideshow Gallery, Williamsburg.
Rafoss' works are in the collections of Dallas Museum of Fine Arts, Texas; Rutgers University, New Jersey; United California Bank, Los Angeles; Omni International Hotel, Atlanta; and Erie County Bank, Buffalo, New York.
Rafoss was born in Flekkefjord, Norway, and immigrated to the United States at the age of fifteen. He currently lives and has a studio in Jersey City, New Jersey. He is a retired Professor of Art, SUNY Rockland.